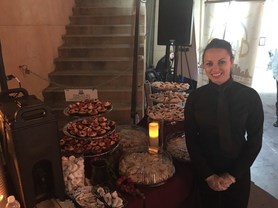 We treat all of our employees like family and offer very competitive pay. 
To be considered, please complete an application by clicking on the link below:
You will hear back from us within 24-48 hours.  If you don't hear from us, please contact info@topnotchstaffingca.com.
Top Notch Staffing is an equal opportunity employer and makes employment decisions on the basis of merit. Qualified applicants are considered for employment without regard to race, religion, sex or gender, sexual orientation, gender identity or expression, pregnancy, marital status, national origin, citizenship, veteran status, ancestry, age, physical or mental disability, genetic information, or any other consideration made unlawful by applicable laws.
Top Notch Staffing is looking for professional catering and restaurant staff to fill in needs around the Greater Los Angeles/Inland Empire/Ventura and Orange County Areas. MUST HAVE AT LEAST 1 YEAR OF EXPERIENCE.
The following positions are available:

Efficient banquet servers (set-up and clean-up crew included) - training will be provided.
Talented and experienced bartenders
Food/bar runners
Captains
Chefs / line cooks / prep cooks
Food truck chefs/cooks
Dishwashers and scullery
Staff with certifications will have a higher starting salary.

Top Notch Staffing services:WeddingsBirthdaysFuneralsUniversity eventsAnniversariesLuncheonsReceptionsCorporate eventsFestivalsFood trucksResidential/backyard partiesBanquet partiesGalasFundraisersMore!
Business Development Representative
Top Notch Staffing is looking to fill an exciting job opportunity. We are looking to hire a self-motivated and innovative Business Development Representative. The Business Development Representative will possess hunter-style traits, a persuasive goal-oriented attitude and a natural talent for building long-term client relationships.
Job Description: This position will be based in the Glendale office but will cover territories in the surrounding areas including Orange County, Ventura, and the Inland Empire. The Business Development Representative must be self-motivated, possess strong people skills, and have a "go-getter" attitude. In addition, this position requires a strong attention to detail, keen follow-up skills, and the willingness to learn and flourish in a fast-paced environment. This role will be responsible for developing and executing sales plans to generate new business, meet internal goals, and most importantly, meet the needs of our growing client base. Must have excellent communication and negotiation skills and have the ability to deliver engaging presentations. A generous residual commision structure allowing equal earnings for repeat business.
Essential Functions:
•Generating Leads •Prospecting potential clients •Strategic planning, presentation and delivery to potential and existing clients to generate sales and build client base. 50% of position requires local travel. (Inland Empire/Ventura and surrounding areas) •Contact prospective clients through email, social networks or phone calls •Create and implement marketing strategies to develop client base and open new segments of business; conduct market research regularly •Regularly check-in with existing clients to ensure early order placement •Works with the CEO and/or VP of Operations on contract negotiations, setting up accounts, receivables, terms and rate negotiation • Maintains working relationships with existing and prospective clients with timely follow-ups and responses •Achieve sales goals and service performance requirements through new and existing customer sales by providing excellent service and ensuring customer satisfaction •Generate weekly Activity reports to be turned into VP of Operations •Stay up to date with industry knowledge and innovation by networking and participating in industry related events, functions and/or trade shows •Assist in the development in new sales material Requirements •Collaborating in business development strategies
Requirements

•A successful track record in the world of outside sales •Ability to set up appointments and meetings •Excellent written and verbal communication skills •Strong organizational skills, attention to detail and project management skills •Motivated self-starter with entrepreneurial spirit •Closing strategies •Ability to ask great questions to reveal client needs •Exceptional customer service •Ability to multitask, prioritize and work efficiently under pressure in an often deadline driven environment •Proficiency with or ability to learn Mac software programs/devices, Microsoft Office Suite and Salesforce •Must have reliable source of transportation •Must be able to meet the requirements of PULL program •Willing to work the occasional evening, weekends or holiday •Experience in serviced-based sales is a plus •Working knowledge of the staffing and food & beverage industry in Los Angeles and surrounding area is plus